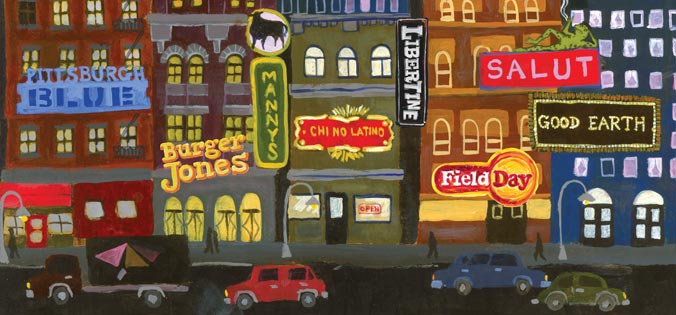 The City's Brightest Lights
Life is better when you have great restaurants to choose from – places that not only satisfy your appetite but delight the senses; that bring fresh attitude and lasting vitality to your neighborhood; and are at once local hangouts and citywide destinations.
New Bar at Salut in Edina and New Champagne Happy Hour, too!
This will bring out your bubbly side: Specially priced Champagne by the glass & bottle; new Champagne cocktails; and a range of new Happy Hour Bar Bites – all served in Salut Edina's spectacular new bar from 3PM weekdays. "Now larger and more comfortable than ever, with new booths, flooring, tables and dramatic light fixtures, the bar really is a show stopper," says its creator, Phil Roberts. "It's stylish, but not fancy. Elegant but supremely comfortable." The perfect setting for a flute of Champagne – or a bottle of beer.
We invite you to "Eat the World" at Chino Latino
"This is the most significant menu evolution in CHINO LATINO's history, and it's driven by the incredible talent we have on board," says the restaurant's creator, Phil Roberts. "A few months back we went traveling – first to New York, then across Southeast Asia. The mission was simple: Get inspired. Get ideas. And then get busy."
Approximately 20 new dishes have debuted on the new menu – with more to follow. "Rather than introducing everything all at once, we'll add dishes over the course of the year," says Roberts. "This enables us to execute perfectly from the start." Boba & Pearls and Tikis are two new cocktail categories are also part of the Chino menu revolution.
"We have a lot in store for CHINO LATINO that we'll be able to share as the year progresses," says Phil Roberts. "In the meantime, keep all eyes on the menu. There's no reigning in our talent."
eGift Cards - Purchase Easily, Give Instantly

eGift Cards can be purchased here and sent instantly to gift recipients across town, or across theworld. Available in any demonination of $25 and over, eGift Cards retain their full value over time. They impose no "activation" fees. They don't expire or require a qualifying purchase. And they aren't subject to blackout dates.


Check out Phil's blog about wine, travel, and food!
Click here to visit.
---
It pays to eat.
You deserve more than a "Thank you. Come again." Join the Parasole Dining Club!
---
Parasole Restaurant Holdings
5032 France Avenue South
Edina, MN 55410
Please feel free to call or fax us at:
Tel: 612-822-0016
Fax: 612-822-0705